Ebook Conversion Special for the Year Start, Only R2500, Save R1000… Offer ends 29 February 2020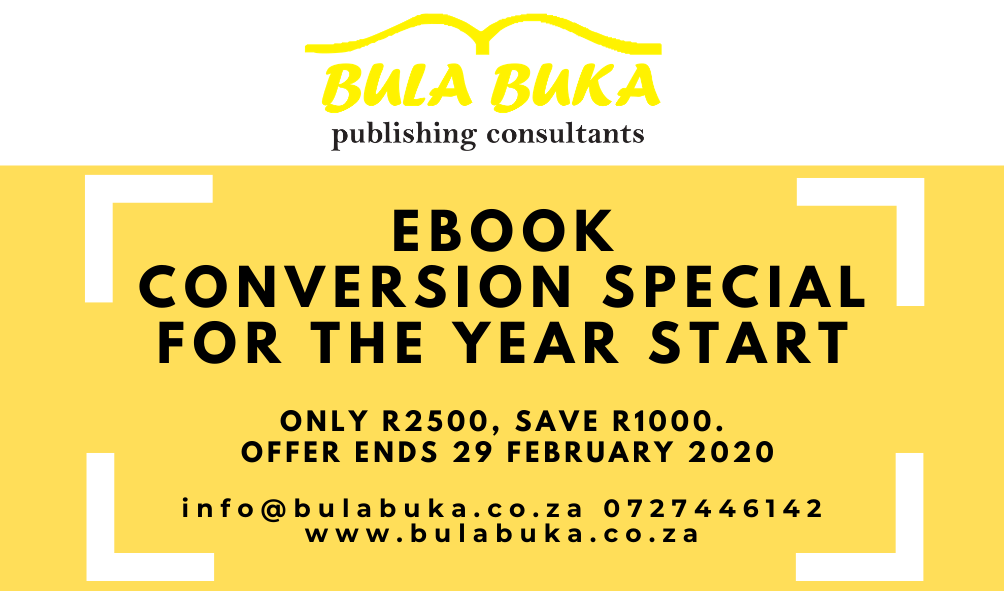 Set yourself up to earn book royalties from online bookstores.
Let's convert your book into an ebook and also distribute it to Amazon.com, Apple iBooks, Kobo.co.za, Barnesandnoble.com, and Lulu.com.
For only R2500, save R1000. The offer ends 29 February 2020.
It is possible to earn about R500 per month (depending on your marketing) by having your books available on these online bookstores.
As www.bulabuka.co.za, we've assisted a lot of authors with publishing their books onto these online bookstores: speakers, historians, pastors, economists, celebrities, etc.
We make things simple for you by doing all the work, i.e. converting and uploading your book onto these bookstores (Amazon, Apple iBookstore, Kobo.co.za, Lulu and Barnes&Noble).
You earn all your royalties from sales (we take nothing). We charge a once-off fee to do the work (converting and loading the book onto the online bookstores), and after we hand the accounts over to you. And thus the bookstores will pay you directly.
The advantage is your book is available to a global audience and at any time of the day.
Also, your name and book title appear on the first pages of search engines. It communicates authority and official status.
Send any query you have, we will gladly assist (contact details at the bottom of the page).
FREQUENTLY ASKED QUESTIONS: The all you need to know guide (with details) about publishing your book into an ebook
HELPFUL ARTICLES ON OUR WEBSITE
OTHER SERVICES WE OFFER AUTHORS
Editing, cover design and book layout design
Consulting services on writing your book, marketing, dealing with media, and various on-request services. Basically, our consulting is geared to help you get the most of your money and not waste/lose money. This can be done in person or over Skype.
THANKS.
CONTACT DETAILS
Email – info@bulabuka.co.za.
Phone –  0727446142